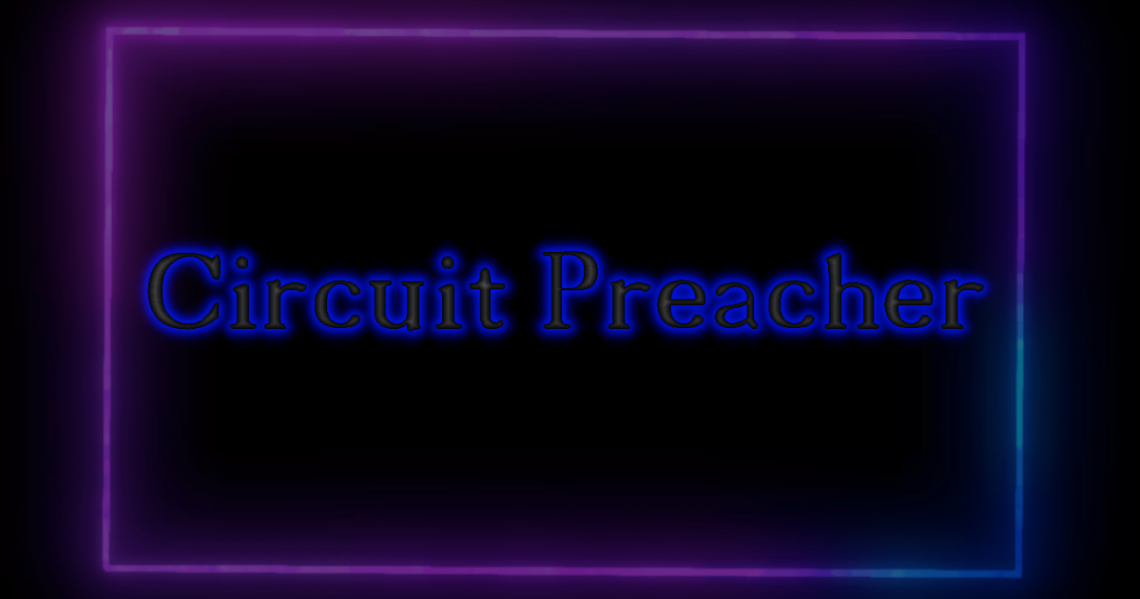 Interview: Circuit Preacher
**englisch below**
Stell dich kurz vor
Hallo zusammen, mein Name ist Tyler und ich produziere Musik als Circuit Preacher. Dabei handelt es sich um düstere elektronische Musik, die verschiedene meiner Einflüsse von Industrial/EBM bis hin zu Metal und Synthwave vermischt. Die Geschichte hinter der Musik ist, dass der Circuit Preacher die Last Church of the Final Days anführt, einen unterirdischen Weltuntergangskult im amerikanischen Süden. Der Schauplatz ist das Jahr 2222, wo Versammlungen und Musik von der totalitären Regierung verboten worden sind. Wir hoffen, dass du dich uns anschließen wirst.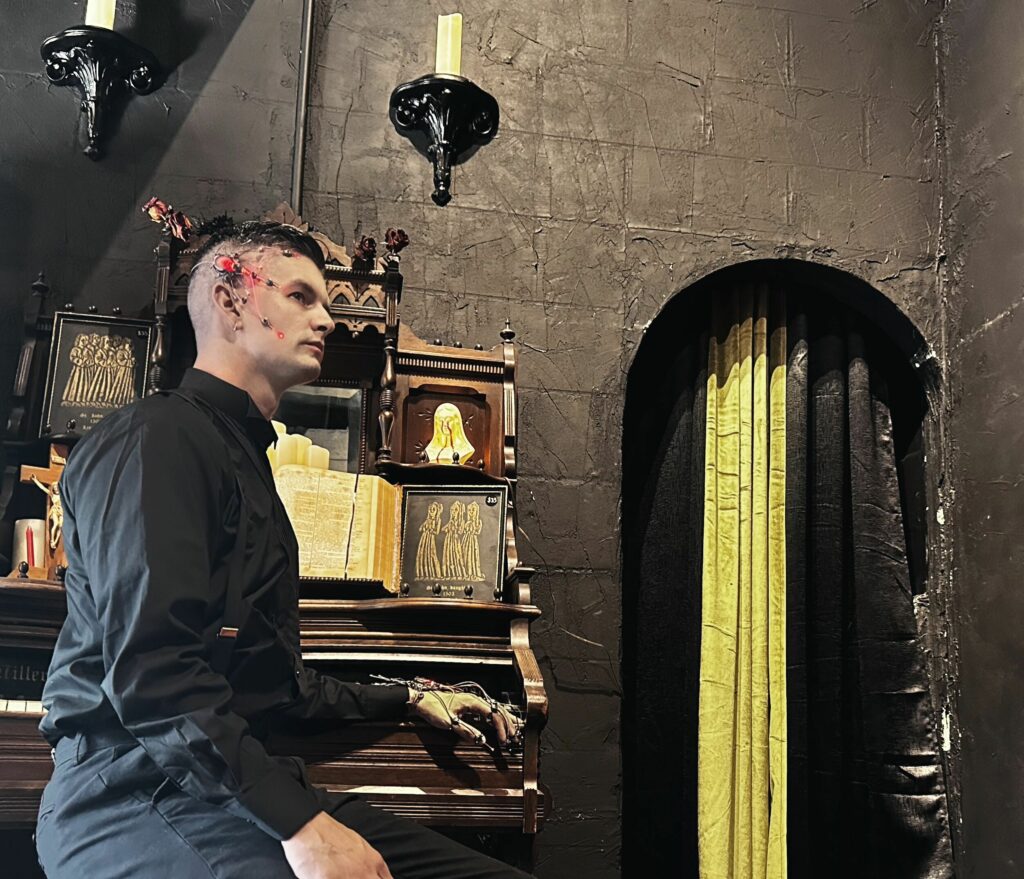 Wann und wie bist du zur Musik gekommen?
Ich bin im Alter von 12/13 Jahren zur Musik gekommen. Ich fing an, Bassgitarre zu spielen und lernte jeden Song von Pantera, Victor Wooten, Metallica und Mudvayne.
Von 15-21 Jahren spielte ich in Metal/Deathcore-Bands und mit Anfang 20 spielte ich in großen Kirchen. Ich wollte schon seit einiger Zeit selbst Musik machen und habe mich Ende 2022 entschlossen, Circuit Preacher zu gründen.
Wie entsteht ein Song? Erst die Melodie, dann der Text?
Manchmal ist die Melodie zuerst dran, manchmal der Text. Meistens beginne ich mit einer Melodie und baue dann alles andere so auf, dass es dieser Idee dient. Sobald ich mehrere Ideen für einen Song habe, arbeite ich am Arrangement, bis ich das Gefühl habe, dass es gut fließt und zur Stimmung/zum Thema passt.
Was bedeutet Musik für dich?
Musik ist ein großer Teil meines Lebens. Als ich ein Teenager war, war sie alles, was ich hatte. Ich hörte ständig Musik und spielte Gitarre. Ich bin jetzt 32 und es gab viele Zeiten, in denen ein bestimmter Song oder Künstler meine Zuflucht war. Ich bin dankbar, dass sie mutig genug waren, ihre Gefühle mitzuteilen, und dass ich diesen Song/Text zur richtigen Zeit finden konnte. Natürlich liebe ich starke Bässe und kreative Akkordfolgen, aber die Kraft der Musik liegt für mich in der menschlichen Verbindung und der gemeinsamen Erfahrung.
Fünf Fakten über dich
Ich bin ein großer Fan von scharfer Soße: meine Lieblingsgerichte sind thailändisch und mexikanisch
Ich habe Religionswissenschaften studiert
Eines meiner aktuellen Lieblingsbücher: Der geheimnisvolle Fremde
Einer meiner letzten Lieblingsfilme: The Ritual
Ich war noch nie in Europa (plane es aber für nächstes Jahr!)
Was möchtest du deinen Fans noch sagen?
Ich schätze wirklich jeden, der Circuit Preacher gehört hat und das Feedback, das ich erhalten habe. Es gibt so viele tolle Leute in dieser Szene. Ich kann es kaum erwarten, meine neue Musik mit euch zu teilen und euch hoffentlich bald live zu sehen! Aktuelle Neuigkeiten / Konzerttermine / Infos
Ich habe gerade den Song "Not Your Judas" am 4. August veröffentlicht und werde meine nächste Single "Brain Wash" am 1. September herausbringen.
Ich habe noch keine Live-Auftritte geplant, aber bitte folge mir auf Instagram und Darktunes, um auf dem Laufenden zu bleiben.
Vielen Dank für die Gelegenheit, ein Interview mit dir zu führen!
Links
Links:
Circuit Preacher (@circuitpreachermusic) • Instagram photos and videos
Spotify: https://tr.ee/ewhljXp9AD
Bandcamp: Music | Circuit Preacher (bandcamp.com)
Apple Music: https://tr.ee/6xRvH8vgrm
Facebook: Facebook
---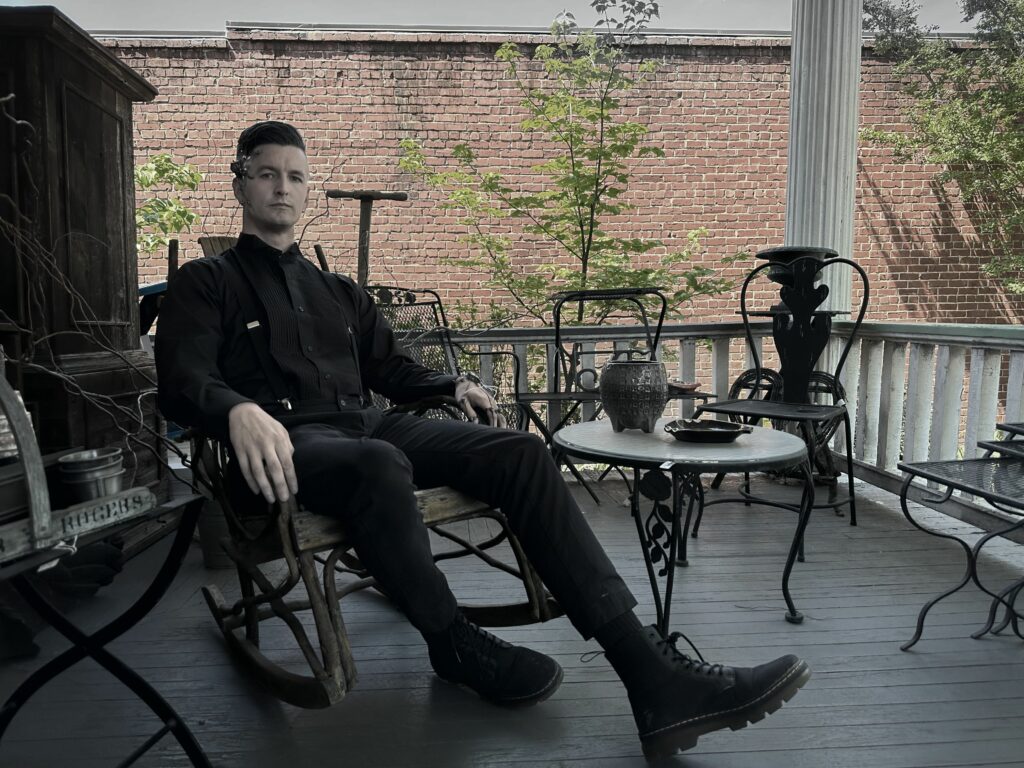 Introduce yourself briefly / Band introduction
Hello everyone, my name is Tyler and I produce music as Circuit Preacher. This is dark electronic music that blends several of my influences from industrial/ebm to metal and synthwave. The story behind the music is that the Circuit Preacher leads the Last Church of the Final Days, an underground doomsday cult in the American south. The setting is in the year 2222 where gatherings and music have been outlawed by the totalitarian government in place. We hope you will join us.
When and how did you get into music?
I got into music around the age of 12/13. I began playing bass guitar and learned every song I could from Pantera, Victor Wooten, Metallica, Mudvayne.
I played in metal/deathcore bands from 15-21 and spent time playing at large churches during my early 20s. I have wanted to create music on my own for some time and choose to begin Circuit Preacher late 2022.
How is a song created? First the melody, then the lyrics?
Sometimes melody is first, sometimes it is lyrics. I mostly start with a melody then work to build everything else to serve that idea. Once I have several ideas for a song, I work on arrangement until I feel like it flows well and fits the vibe/topic. What does music mean to you?
Music is a huge part of my life. When I was a teenager it was all I had. I would listen to music and play guitar constantly. I am 32 now and there have been many times where a certain song or artist was my sanctuary. I am grateful that they were bold enough to share how they felt and that I could find that song/lyrics at the right time. Of course I love heavy bass lines and creative chord progressions but the power of music to me lies in human connection and shared experience.
Five facts about you
I am a huge fan of hot sauce: favorite foods are thai and mexican
I went to school for religious studies
One of my recent favorite books: Mysterious Stranger
One of my recent favorite movies: The Ritual
I have never been to Europe (but plan to next year!)
What else would you like to say to your fans?
I truly appreciate everyone who has listened to Circuit Preacher and the feedback I have received. There are so many great people in this scene. I can't wait to share my new music with you and hopefully see you live soon! Latest news / concert dates / info
I just released the song, "Not Your Judas" on August 4th and will be releasing my next single, "Brain Wash" on September 1st.
I do not have any live performances scheduled yet but please follow my instagram and Darktunes for updates about that.
Thank you for the opportunity to interview with you!
-Circuit Preacher